Secure live stream and tracking of your drone's flight
We've got our hands on a DJI Enterprise Mavic 3 and are busy testing live GPS in our IncidentShare video solution.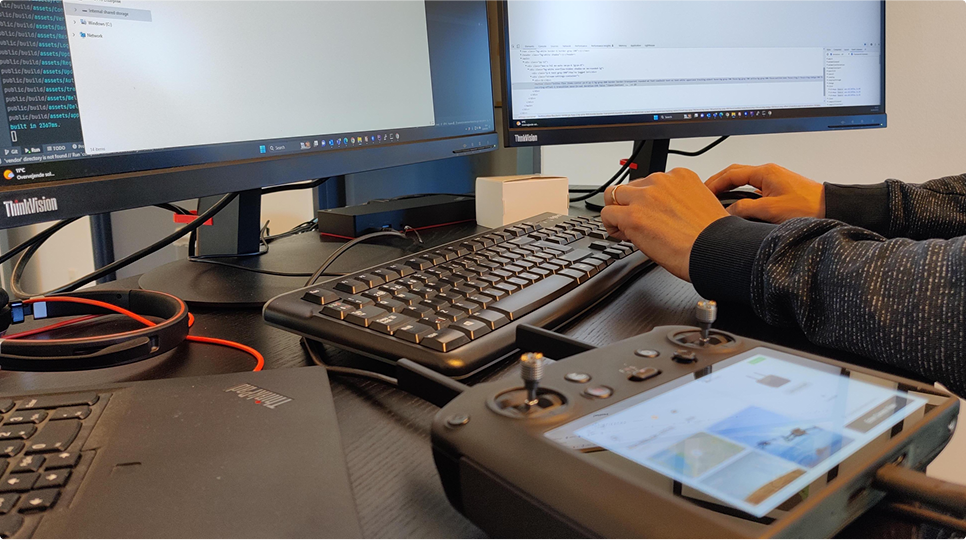 When the opportunity arose to test the features of both the DJI Mavic 3 and the RC Pro Enterprise controller, we jumped at the chance. A large part of our passion lies in our curiosity about new technologies and gadgets.
We started out with drones and live streaming ten years ago, and have been working to make video streaming secure from the start. This is not a focus that the manufacturers of cameras have had, so we have contributed by finding ways to make RTMP live streaming with DJI drones more secure.
Real-time GPS positioning
The Mavic 3 Enterprise drone comes with an RC Pro controller, which is a controller with a built-in screen and computer, and lots of features. The controller's computer can be accessed via DJI's Cloud API, which is where it really gets fun for us.
By gaining access to both the controller and the drone's GPS, we can now start looking at ways to bring these together in the in-built map of our video solution, IncidentShare.
Using the MQTT protocol, we can retrieve information about the location of the drone and controller in real time, with very high accuracy and low lag. We expect to be able to find a way to use this to help our customers gain an even better overview and communication.
"One of the exciting things about working at Bliksund is our shared curiosity for new technologies. Finding new solutions together and saying 'Hey, can we do it this way instead?' is something that really drives our team.
And yes, it's also fun for us developers to play with and fly drones during working hours,"

Peter Phillip Michaelsen – System Developer and front man for tests with DJI drones
The greatest possible level of security
Our customers demand high security, both in live streaming, but also in the storage and streaming of video recordings. Our video livestreaming, for example with drones, typically uses the video protocols RTMP and RTMPS, but IncidentShare is designed to add extra encryption to the video source.
All of the captured video is also stored on secure servers.
Bliksund is always ready to help
In addition to help with live streaming with drones, we also provide 'how-to' guides that show you how to live stream from a DJI Osmo Action camera. Read more here
If you have any questions and would like to learn more about our work with drones and live streaming, please contact us here: